"WE THE PEOPLE" LEGAL PRIMER
Courtesy of: Prison Book Program
Prison Book Program is a grassroots organization that exists for one purpose—to send free books to prisoners. We've been doing it since 1972.
Books are crucial to the political, spiritual, and educational development of all people. Most prisons do not allow family and friends to send books into prisons. They must come from a bookstore, publisher, online retailer or a program like ours. We serve over 10,000 prisoners each year.
The reading interests of the people we serve mirror the general population with a few exceptions.. They say that books offer escape, entertainment, and practical information.
We've also made special efforts to offer several types of special practical books:
Basic legal information for prisoners offered as part of our Legal Primer. This book was volunteer-written for Prison Book Program.
Dictionaries. Because this is our most requested and useful item, we buy more than 2000/year wholesale.
GED study guides
Many prisoners have written to us to say why books are so important to them.  See the essays section of our blog to hear what they had to say. We also ask prisoners what they thought of the books they read. Their responses are quite interesting. Visit the book reviews section of our blog, to see what they had to say.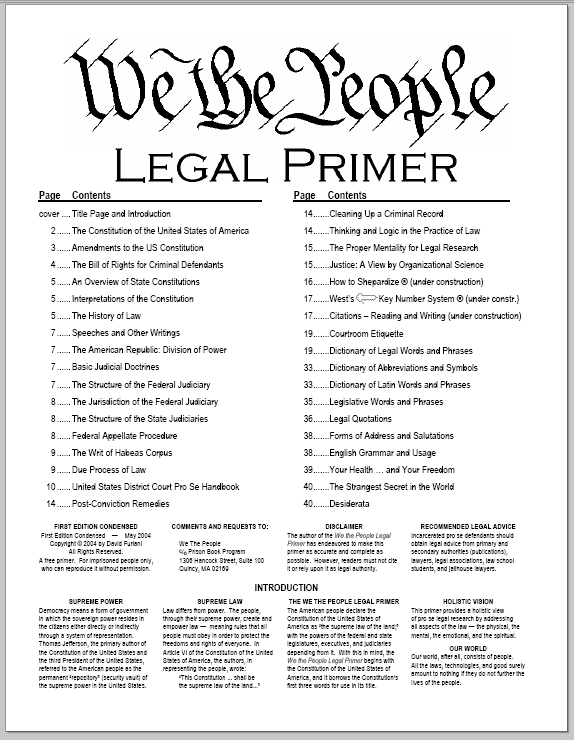 We also recommend "The Jailhouse Lawyer's Handbook" published by The Center for Constitutional Rights and the National Lawyers Guild.
This Handbook is a resource for prisoners who wish to file a federal lawsuit addressing poor conditions in prison or abuse by prison staff. It also contains limited general information about the American legal system.
This Handbook is available for free to anyone: prisoners, families, friends, activists, lawyers and others. It is available as a free download on the CCR website.
Frequently Asked Questions: Our Services for People in Prison